Attention all moon mutants and interstellar aliens! Be sure to stop by and like the brand new Weird Worlds: Return to Infinite Space Facebook page. Why, you may ask? Shouts, space news & lots more! (New players: get Weird Worlds for Win, iPad & Android here.)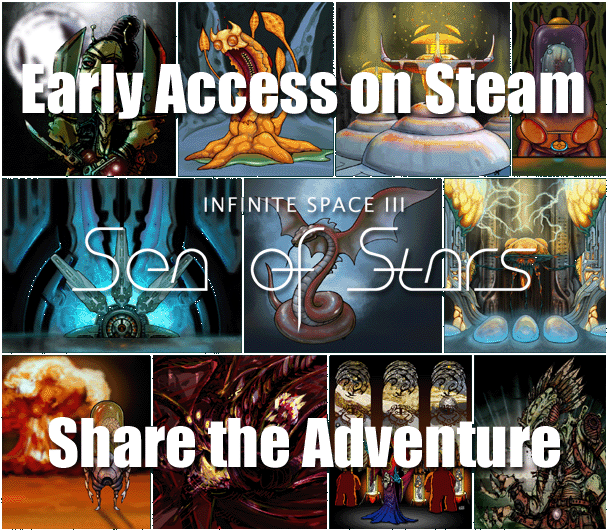 Development Update #20 (April 18)
The lunch break roguelike of interstellar adventure!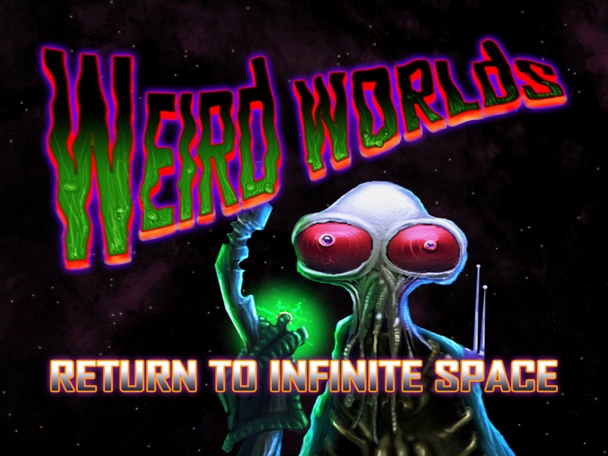 Steam Early Access Preview
It's official. The Infinite Space III: Sea of Stars Early Access preview begins today. Kickstarter backers who pledged $25 or more will get a sneak peek and receive Steam keys that will grant immediate access to the current work-in-progress version of the game. Backers in the lower tiers (we love you too) will start receiving keys after the Early Access launch next week. Engage!
Indie Developer Accepts $60 billion Social Networking Deal
After secret negotiations, and much soul searching, indie developer Digital Eel has announced that its entire catalog of games has been sold to social networking giant Facebuck for $60 billion. Titles like Brainpipe and Weird Worlds were acquired for up to $4.7 billion each.
Most noteworthy is the acquisition of several as yet unpublished games (rumored to be worth up to $1 trillion) including Dr. Blob's Revenge, Smorbler, Swamp Planet Weekend, Scrilch! and the much anticipated but as yet unseen Basilisks & Biplanes.

When asked to comment, Digital Eel co-founder Rich Carlson stated "We believed in the indie spirit and lived it from the get go. It wasn't about the money. But that was then and this is now, and now it's time to sell out, baby." Co-founder Iikka Keranen quickly added "I just bought the entire island of Bora Bora. It's awesome!"
Effective this week, Digital Eel becomes a Facebuck subsidiary and will be known as Eelface. Apparently founders Carlson and Keranen are not affiliated with the organization or its products (having since disappeared).
Eelface has announced its first two projects: Klobs: Into Darkness reintroduces the lighthearted children's puzzle game, Klobs, and plunges it into darkness. Platform Defense is a game for people who want to play games but can't make up their minds. Both games are scheduled for summer release but probably not because it's April Fools Day!

WEIRD WORLDS DAILY ROYALE SPECIAL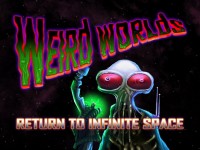 Hot news just in from the Purple Void: Get Weird Worlds: Return to Infinite Space, the lunchtime roguelike-like that's as much fun to play as lunch is to eat, right now for only $1.99 (.048 Altairian dollars) via Daily Royale. That's like 80% off and the lowest price EVER! Go see and pass the word!
Also watch the skies for news about the Sea of Stars Early Access Beta coming soon!
BRAINPIPE AND JAMMERS RETAIL PRICE SLASH!
Share the news: The retail prices of Data Jammers: FastForward and Brainpipe: A Plunge to Unhumanity have been reduced by up to 75%!
Now you can get the twisted Tron-like racing destruction game and the trippy psychedelic cult obstacle game for an average price of $2.49 each. Please note that prices may vary slightly from portal to portal since each has their minimum possible price charged, and we're there!
This price change will be effective on or about March 1st at these online game outlets: Mac Game Store, Desura, IndieGameStand, GamersGate and Steam. Follow links found HERE to purchase these games from your favorite portal. (Make sure the prices have been reset before you do.)

The Universe is Expanding