Welcome to the Oblivion page!

Oblivion was originally designed as a secret level area for one of Ion Storm's debut computer games, Anachronox. Unfortunately, developing Anachronox took about four years. Oblivion was left on the cutting room floor and forgotten. Fade to black...

On December 5, 2003, I happened to find both the Worldcraft .rmf file and the Quake .map file for Oblivion, as well as screenshots of the level (seen above), on a couple of dusty old floppy disks. The original Oblivion .map file is dated July 16, 1997, 11:33pm. It's very likely that I was up late working at Ion the last time I saved it.

Btw, Ion Storm in Dallas, TX, closed its doors forever in 2001.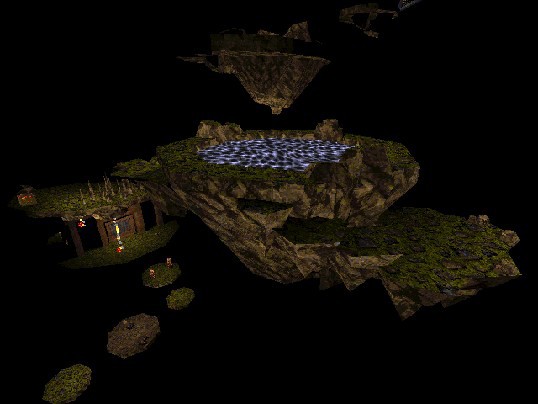 This image is from the updated version of Oblivion. I optimized the map and changed a few things to help default Quake run the level. The big ramp room is gone. It added nothing; you wouldn't miss it. Also, the pronged statue, which used to be my sig, is gone, again, to help Quake display the level decently.
When I look at Oblivion now, it reminds me of how much fun we were having at Ion in its first year and how important we all felt that it was to do new things and try crazy ideas. Without that prevailing spirit I doubt I could have made the leap from "rat mazes" to Oblivion. It's about being encouraged to surpass yourself and encouraging others to do the same. That's where you want to be and that was Ion, year one.
Oblivion (solo or three player deathmatch) is available for free distribution here. There may be updates, so you may want to bookmark this page.
Rich Carlson
02.29.04