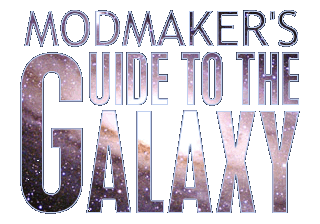 Last updated 11/26/2006
Welcome to the Modmaker's Guide! This website will contain various tutorials we hope to be useful to people who make mods for Weird Worlds: Return to Infinite Space. While starting small, the site will grow over time to cover most everything there is to modifying the game.
Note that you need to buy the full version of Weird Worlds in order to play mods. Various example downloads on this site will NOT work with the demo version!
If and when you have questions not covered on this site, please check out the Weird Worlds forums at Shrapnel Games website and Infinite Space Federation. There you'll be able to ask other modders for advice, as well as share your own discoveries. I (Fingers) will also be following the forums and answering questions on occasion. Updates to this site will be announced at the forums as well.
Available Tutorials
[02/28/2006] The Basics - How to set up the folders etc.
[11/26/2005] Creating a Starship - Covers ship graphics and game data. Download included.
[11/26/2006] Particle Effects - Describes the Weird Worlds particle system.
[02/25/2006] Creating an Alien Race - Create a new enemy race. Download included.
[11/26/2006] The Quest System - A wellspring of arcane wisdom.
[11/26/2005] Engine Limitations - List of various hardcoded numbers.
[11/26/2006] Changes in WW 1.2 upgrade - Effects of the new version on mods.