STRANGE ADVENTURES - DOWNLOADS




STRANGE ADVENTURES V1.5 PATCH

This file upgrades the FULL PC VERSION of Strange Adventures in Infinite Space to version 1.5. Note: This patch is not compatible with the demo.

How can you tell if you need the patch? Run the game and look at the top left corner of the main menu (with purple nebula background). If there's no version number, or if it's not "v1.5", you should get the patch.

Download the file below and run it. Then enter the location of your SAIS install folder (e.g. C:\Program Files\Strange Adventures In Infinite Space, which is the default) and click "Unzip". This will upgrade the game to the latest version.

Download: sais_15_patch.exe (360KB - patch history)

STRANGE ADVENTURES IN INFINITE SPACE PC DEMO

Download the Demo Version of Strange Adventures In Infinite Space!

The demo is a considerably scaled-down version of the full game and is designed to help players become familiar with the SAIS game system.

The demo version of SAIS features:

8 different ship types

29 different weapons, drives, shields, gadgets and artifacts

6 alien lifeforms

17 different planet and star types

2 unique alien races

The star map does not randomize for each game, instead, one fixed star map with fewer stars to explore is provided for easy, normal and hard difficulty settings.
No exotic weapons, useable artifacts or advanced ship systems are included in this version of the game. It does, however, include the combat simulator so players can prepare for the real thing.
Download: sais_demo_14.exe (4.75M)
Note: The Strange Adventures In Infinite Space demo has been updated to v1.4. (March 20, 2003)

STRANGE ADVENTURES IN INFINITE SPACE MAC DEMO

Digital Eel is pleased to announce the release of the Strange Adventures in Infinite Space demo for Macintosh OS 9 and OS X. Since the full version is available now, this is the prime time to check out the Mac SAIS demo. It's a great way to get a taste of what adventuring in the Purple Void is like, and you can make sure the game runs on your laptop, home PC, etc. Just think -you could be blasting Garthan frigates faster than I can say structural gluon field. Have fun!
Download:
MAC OS 9: sais-os9-demo.img.sit (6.7M)
MAC OS X: sais-osx-demo.dmg (6.3M)

The Mac SAIS demos include the same features as the PC demo.

STRANGE ADVENTURES IN INFINITE SPACE SOURCE CODE

Now that Weird Worlds: Return to Infinite Space is available from Shrapnel Games, Digital Eel is pleased to announce the release of the Strange Adventures in Infinite Space source code! The source is available under the ever-popular GNU General Public License. Note that the license does not extend to the graphics, sound content etc.
To read more and download the code, go to the SAIS Source Code page.

DESKTOP IMAGES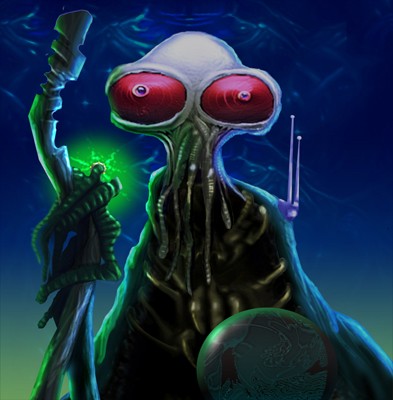 Size: 1024x768
Download (832k)
Click on the thumbnails to view a full size JPEG. The downloads are zipped BMP files. The desktop images look best when centered on a black background.
Strange Adventures in Infinite Space
Starship Insignia Wallpapers
Download all wallpapers in .bmp format: click here.
(1152x864 - 769kb)

MOD REPORT
NEW! Yellow Kawangi Hunter by Shadowcat - Ever want to go toe to toe against a Yellow Kawangi Nova Ship with the best weapons and systems in the game? Now's your chance, rocket-jock! In fact, if you think you're hot stuff, try three Kawangi Nova Ships -but don't go cryin' home to mama if they spank you. Ouch! Get Yellow Kawangi Hunter here & thanks to Shadowcat for a great SAIS mod!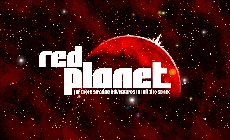 Calling all space captains! Hugo Levasseur's new Strange Adventures in Infinite Space mod, RED PLANET (Updated 3/12), has just been released! This is a nifty conversion, and if you collect SAIS mods, you'll definitely want to get it. Hugo has created a whole new story and all of the characters, ships and items to make it real. RED PLANET has an unusual objective too, and very different from SAIS. Can you complete Alex Flannigan's challenging mission to retrieve the shards of shattered Mars? Think you can? Then download RED PLANET right now and find out!


Click here to download The Urluquai Crusade from the SAIS Federation website.
Exaar's done an amazing job with this ambitious Strange Adventures in Infinite Space modification. The Urluquai Crusade offers a ton of new content and more than a few surprises. The production is very nice throughout and the idea of hanging out with the baddest of the bad guys is irresistable. Check this mod out and prepare yourself to spend a long time plumbing its depths. The starry depths where Deep Hunters lurk, that is...

Jeremy Johnson's impressive new SAIS mod, Even Stranger Adventures in Infinite Space, completely revamps the original game in awesome ways. Essentially, it's a whole new version of SAIS to play. ESAIS adds amazing new weapons, ships, items, aliens and so many changes and new things that you would think it was an official sequel or add-on. With nice art and details galore, ESAIS looks good, it's fun to explore and it plays insanely cool. Jeremy must have spent hundreds of hours on this modification but it sure paid off. ESAIS is a blast!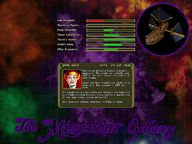 The Mizendar Galaxy, by Wydraz, presents an alternate universe where you possess not a starship but an Aethership -a fanciful star galleon. You can choose from three ship variations, Hunter, Destroyer and Explorer. Each one offers different weapon and ship system configurations. They're all fun and with three weapon hard points, deadly. This mod is designed for hardcore SAIS players who prefer the hardest difficulty setting. The Mizendar Galaxy is a classy mod that you'll definitely want to have in your collection.
You can download The Mizendar Galaxy here, here or here.
More mods! If you're ready for a new challenge check out Megamod and Dogfight ("super-melee Megamod") by Chainmail Straightjacket Enterprises and AlStar's SAIS mod (v1.2) by Alex "AlStar" Gesing. (Visit CSE and AlStar's SAIS page for more info.)
Mods by "Deep" Hunter Johnson
Renegade allows you to captain either a Zorg corvette, a Garthan light carrier or an Urluquai deep hunter (instead of the standard Terran explorer). - TRE, or Target Rich Environment, beefs up the ship counts and gives you even more stuff to blow up. - Q adds a mysterious [Text deleted. That would be telling.] to the game.
For updates and new stuff be sure to check out Hunter's SAIS page.
- - -

If you are interested in making SAIS mods (and downloading the latest ones) we encourage you to visit the Infinite Space Federation online. It's a great place to meet other gamers who like to talk shop and share information about creating mods for the game. You'll find fellowship and plenty of resources to get started as well as a message board for inquiries and general banter!

There have been some terrific mods released so far (see above!) and we all want to see and play more, so start poking around in those SAIS .ini files, head on over to the Infinite Space Federation site, hobnob with the community and make that cool idea that you're thinking about happen!

- - -

Note: Although we encourage mod-making and sharing add-ons on the internet, we cannot offer technical support for them. Nor are we responsible for the content of a user-created mod or any damage a user-created mod may do to the game itself or to the computer system being used (although the chances that an SAIS mod will damage a computer are extremely remote).

Note: All mods posted on this page have been tested by Digital Eel. We don't post user-made mods unless we know they work.

If you ever have questions or comments about a particular mod, please contact the person who created it. After all, mod-makers want to hear your feedback. Also, if you find, or have created, a mod that we don't have listed, please let us know!